Let' s spread the world's leading edge collision prevention technology
SRIM Technology
Realize a no collision world
    using " ultra-high speed 3D image detection technology "

Extensively applicable high speed 3D measurement system that animal with two eyes got in the process of evolution.
Aim for practical application of 3-D image recognition technology that makes maximum use of measuring accuracy of
full field of view.
■ SRIM ( Stereo Range Imager ) Technology
  Ultrahigh-speed full-field 3D distance measuring technology

ITD Lab Corp. contributes to establishing " Safe World ",
where no crash & collision accidents, through its proprietary
"Stereo Range Imager" technology, 3D distance measurement system.
■ ADAS ( Advanced Driver Assistant System )
Stereo camera 3D distance measurement technology is a system that
automatically detects pedestrians, car, obstacles, white lines etc. and
supports safe driving.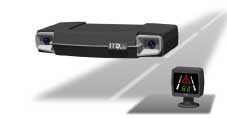 Intelligent Stereo Camera powered by SRIM Technology
ISC 100VM is suitable for small foot print deep learning by utilizing the real time 3D distance information
Intelligent Stereo Camera
■ Why Stereo Camera?
A stereo camera that recognizes three-dimentional objects as human eyes
Detect high speed, accurate position, shape and relative speed.
A:ISC Stereo Camera
B:Single Camera
C:LIDAR
D:Millimeter Wave Radar
3D Recognition
All 3D objects
Model objects only
High reflectance object
←
Distance Accuracy
100m±2m 25m±0.08m
100m±10m 25m±0.5m
±0.1m(all range)
±0.2m(all range)
View Angle
40°~ 120°
40°
20°
10°
Detection Speed
60fps(up to 160fps)
30fps
15~20fps
10fps
Lane Detection
White lane & guardrail
White lane only
No
No
Object Separation
Advantage in object
boundary detection
Detectable but inferior
Slow reaction rate
Low accuracy
Cost
Cheaper than B/C/D
expensive as D
Equivalent and expensive
Scan type control unit
is expensive
Expensive
Installation
Easy due to automatic
adjustment function
Need few hours by
skilled people
←
←
■ ITD Lab ISC (Intelligent Stereo Camera) Features
High speed object recognition function, automatic adjustment function, self position recognition
function by incorporating our proprietary "SRIM Technology", we will achieve performance that
surpasses that of other companies' stereo cameras
Comparison with Other Stero Cameras
Intelligent Stereo Camera
S / Stereo Camera
Others / Stereo Camera
Self Location Recognition Capability
◎
×
×
3-D Map Generation Capability
◎
×
×
Calibration Capability
◎ GOOD
△ POOR
×
Detection Speed
◎ 60fps ~ 160fps
○ 30fps
△ Below 30fps
How easy to install
◎ No need to adjust
× Consumer can't install
△ Consumer can't install
Processing Speed Index
◎ 500
○ 100
× 30~50
Cost Index
◎ 50~80
○ 100
△ More than 200